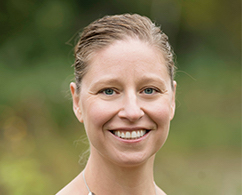 Program Director for the Support of Rostered Ministers
Region 3 Candidacy Leadership Manager
As I was discerning my own call to ministry I realized that I felt strongly called to go to the hurting places of the world, to demonstrate the love of Christ to people in ways that created space for transformation and change.  As a deacon, I have the privilege of walking with people in their discernment journeys, coming alongside them with a word of hope and promise, and joining them in a mutual commitment to proclamation and service.
Deacons are strengthened in leadership through partnership–building up the gifts of the whole body of Christ and working together for the sake of God's mission in the world. Through prophetic diakonia we are invited to sit with those who are poor, oppressed, and suffering, to be a bridge to and for both the church and world, and stand with all of God's people in the promise of God's presence and love.  Ministers of Word and Service (deacons) and Ministers of Word and Sacrament (pastors) partner together as we imagine the continued leadership needs of a church that is committed to both building up and strengthening the body of Christ while engaging world more deeply.
My call to leadership is a daily response to the invitation I received through baptism:
Will you come and follow me if I but call your name?
Will you go where you don't know and never be the same?
Will you let my love be shown? Will you let my name be known?
Will you let my life be grown in you and you in me?